Olympic items up for grabs in charity auction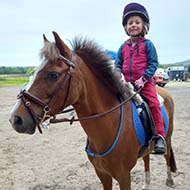 Funds raised will be split between Blue Cross and The Pony Club.
A unique auction to raise money for the educational work of Blue Cross and The Pony Club is taking place in October.

The auction will mark more than a decade of the two organisations working together to teach young owners about how to care for horses and ponies.

Among the many exclusive items up for grabs include a GB tie signed by British Olympic showjumper Ben Maher and a pair of horse shoes worn by Explosion W after his Individual Show Jumping win at the Tokyo Olympics.

Funds raised from the auction will be split equally between the two charities.

"This is a great fundraiser which showcases our special relationship with The Pony Club," commented Kerry Taylor, education manager at Blue Cross. "It also highlights how education and supporting young people to have positive relationships with horses is so important to both charities."

Pony Club CEO Marcus Capel added: "Partnering with Blue Cross reinforces our commitment to animal welfare and supports our members and their horses and ponies

"This auction will enable us to extend our charitable work to support young people who would like to expand their knowledge, build friendships and enjoy time with horses and ponies outdoors. We are looking forward to seeing the excitement surrounding some of these amazing prizes as well."

A full list of the items available for auction will be revealed at the end of September. To join the action, visit givergy.uk/BlueCrossforPetsandThePonyClub at 9 am on Friday 1 October.