Private equity firm CVC to acquire a majority stake in Medivet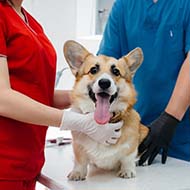 The deal will see CVC take on the veterinary care provider by the end of the year.
Private equity firm CVC Capital Partners has agreed to acquire a majority interest in Medivet for an undisclosed amount, it has been announced.

The deal will see CVC take on the veterinary care provider by the end of the year 'subject to regulatory approvals'. The transition is being overseen by HSBC, Travers Smith, KPMG and EY.

With CVC's backing, Medivet states that it 'will pursue a strategy focused on driving both organic and inorganic growth'. Medivet – which has more than 350 branches in the UK - has recently expanded throughout Europe with operations in Germany and Spain.


Deirdre Burns, CEO of Medivet, said:

"I am delighted that CVC has decided for its funds' to invest in Medivet to fuel and support our ambitions and growth plans for the UK and Europe, and look forward to working together to bring them to fruition. "Over the last 34 years, our Central Partners, Branch Partners and all our people have worked hard to build an outstanding business, centred on delivering exceptional care and service to our patients and clients."

Arnold Levy, on behalf of the founders of Medivet, added: "It is with great pride that we see Medivet in the position it is today and would like to extend our congratulations to all our outstanding staff who endeavour daily to make pets' lives better. Deirdre and her management team have worked tirelessly to build on the Company's track record in recent years, and to ensure it is well placed to continue its growth in the years to come. In CVC, we have found a new investor and partner who appreciate our industry, our business and its model and we wish them all the best for the next phase of the journey."

Dominic Murphy, managing partner and co-head of UK Investments at CVC, added "Medivet is a fast-growing and attractive business, where we are delighted to be backing the management team, led by CEO Deirdre Burns, to further grow the UK business and accelerate international expansion. CVC Funds have significant experience investing in similar service-based healthcare businesses across Europe, and believe we can use these learnings to support the team effectively."