VMD appoints new CEO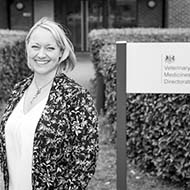 Experienced civil servant Abigail Seager will take over the role.
Yesterday (13 September) the VMD announced that it has appointed Abigail Seager as its new CEO.

Seager has previously held roles in the VMD including director of the authorisations, head of the EU exit and international office, and head of the general assessment and imports team.

Seager's pre-VMD roles include deputy head of fisheries legislation for Defra, and roles within the Ministry of Justice.

David Kennedy, Defra's general director for food, commented on the announcement in a government news release: "I'm very excited about this appointment.

"Abi is incredibly well placed to lead the organisation in the next phase. I look forward to working closely with Abi and VMD as they ensure veterinary medicines continue to be safe, together with growing their international business and leading our work on AMR."

Abigail succeeds Professor Pete Borriello, who has held the post for 10 years.