Nominations open for Blue Cross vet nurse award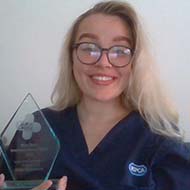 The charity is searching for 2021's 'top veterinary nurse'.
Do you know a veterinary nurse who has gone above and beyond the call of duty to care for pet and pet owners this year?

Nominations have opened for the Blue Cross Veterinary Nurse of the Year Award 2021, and all are encouraged to nominate their top veterinary nurse of the year.

Blue Cross pet charity is asking animal lovers, pet owners and veterinary teams across the UK to consider nominating a veterinary nurse for the award.

Recognising the dedication of veterinary nurses, and the support they give to both their veterinary teams, and to pets and pet owners, the award is given to a veterinary nurse who goes above and beyond to encourage responsible pet ownership and improve pet welfare in their community.

Blue Cross director of veterinary clinical services, David Catlow, said: "The veterinary profession faced difficult times for much of the past couple of years but vet nurses strove on to provide their usual professionalism, compassion and special care for pets and their owners.

"Now, more than ever, we need to recognise their invaluable work and the incredible reassurances and support they offer pet owners and how they are dedicated to helping the welfare of the nation's pets in their communities."

The most recent winner of the Blue Cross Veterinary Nurse of the Year Award was Chloe Mackintosh, a veterinary nurse working at the RSPCA in Harmsworth, North London. Chloe was nominated for the award for her passion for and commitment to animal welfare.

The award will be presented at the BVNA Congress, held in Telford on Saturday 2 October 2021.

Nominations close on Monday 20 September 2021, and entries can be made via the nomination form on the Blue Cross website here.