Pet abduction to be made new criminal offence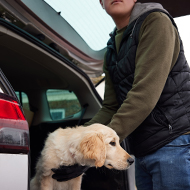 The Government aims to 'crackdown' on pet theft.

The UK Government is set to introduce a new criminal offence for pet abduction. This change comes after a reported rise in pets being stolen over the course of the pandemic.

As part of the Government's plan to crack down on pet theft, the new law will recognise the welfare of animals and that pets are valued as more than property.

The offence is one of many recommendations made by the Government's Pet Theft Taskforce in report published today (3 September).

Launched in May 2021, the Taskforce is comprised of officials from the Home Office, Defra and the Ministry of Justice, alongside operational partners. These operational partners include police CPS, Border Force and Local Government.

Evidence was considered by the Taskforce from academics, animal welfare organisations, enforcement agencies, campaign groups and industry experts.

Recommendations set out by the Taskforce include:

• the creation of a new pet abduction offence
• identifying and tracking cases of pet theft
• improving the recording of ownership and transfer data
• tackling the fear of crime.

Creating a new criminal offence for pet abduction will reflect the true severity of the crime and will prioritise the welfare of pets as sentient beings, as well as recognising the extent of emotional distress caused to both the pet and its owner.

Reliable data on pet theft will build a stronger evidence base surrounding the problem, while new requirements to register additional details, alongside a single point of access to microchipping databases will support the tracking of lost dogs.

Environment secretary George Eustice commented on the new recommendations: "Pet owners shouldn't have to live in fear, and I am pleased this report acknowledges the unique distress caused by this crime.

"Its recommendations will reassure pet owners, help the police to tackle pet theft, and deliver justice for victims. We will consider its findings carefully and work with colleagues across Government to start implementing its recommendations."

Chris Sherwood, RSPCA chief executive, said: "The new Pet Abduction Offence will acknowledge the seriousness of this crime and we hope this will encourage courts to hand out much tougher sentences to pet thieves.

"We're also thrilled that the Government wants to simplify the microchipping database system and we believe this will help to tackle pet theft as well as other animal welfare issues and irresponsible pet ownership generally."

The full report can be read here.