Endangered tiger cubs take first steps outside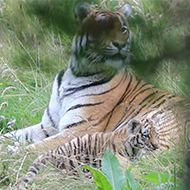 The three cubs live at Highland Wildlife Park in Scotland.

Endangered Amur tiger cubs at the Royal Zoological Society of Scotland's (RZSS) Highland Wildlife Park have taken their first steps outside.

After spending most of their time in the cubbing den with their mother Dominika, the triplet cubs had their first health check and vaccinations from staff last week, and will now be able to go outside often.

Animal collection manager Keith Gilchrist commented on the exciting development: "At ten weeks old, our cubs are getting braver and more playful every day, with their personalities already starting to develop. It is lovely to see just how excited our visitors are to meet them.

"Given how young they are, they won't be allowed outside for the whole day and will likely only be out for short bursts, followed by long naps indoors."
The Amur tiger, which is classified as endangered on the IUCN red list status, can grow up to 10.75 ft, and tends to weigh around 660 pounds. They live primarily in birch forests in eastern Russia, and are the world's largest tiger subspecies.
Following their health check, two of the cubs have been named as female, and one as male. The female cubs are being named by two of the park's donors, and the RZSS are running a competition to name the male cub.
Keith added: "We wanted to give the trio names which would pay tribute to their native home and help raise awareness of the plight this endangered species and sadly many others, face in the wild.
"Two of our generous donors will be naming our female cubs and we are asking the public to help us name our little boy on our social media platforms, by picking from two names shortlisted by our keepers, Aleksander and Dimitri."
Visitor information for Highland Wildlife Park can be found at highlandwildlifepark.org.uk
Image (C) RZSS