RCVS celebrates 60 years of veterinary nursing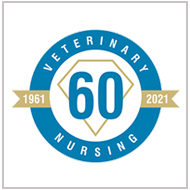 Series of VN Diamond Jubilee events, including podcasts and webinars, get underway.

This year marks 60 years since the launch of the first RCVS-accredited Animal Nursing Auxiliary training scheme, and the profession has come a long way in that time.

To celebrate the occasion, the RCVS is hosting a series of Diamond Jubilee events, including a webinar series, podcasts and an eBook looking at the history of veterinary nursing (VN).

Not only that, but the RCVS is also celebrating a milestone, reaching 20,000 veterinary nurses on the Veterinary Nurses Register.
VN Council chair Matthew Rendle said: "The veterinary nursing Diamond Jubilee celebrations are a fitting way of paying tribute to veterinary nursing – a profession that does so much for animal health and welfare.
"The celebrations will look back on all that has been achieved by the profession and give us an opportunity to engage with RVNs to come up with ideas for how we can continue to advance and develop our amazing profession."
To pay tribute to those who have influenced veterinary nursing over the years, the celebrations will include a series of webinars covering the past, present and future of the profession.

Among these will include a webinar exploring the highlights of the last ten years of veterinary nursing, hosted by VN Council member Jane Davidson, and a look at what career development opportunities have been made available for veterinary nurses hosted by Liz Cox, former chair of VN Council.

The celebrations will culminate in September with the launch of an eBook exploring all aspects of veterinary nursing, from the launch of the Animal Nursing Auxiliary training scheme to the new Certificate in Advanced Veterinary Nursing.
Commenting on reaching the milestone of 20,000 VNs on the Register, Matthew added: "When the VN Register was launched in 2007 there were just over 7,000 members of our profession – the fact we have almost trebled in number since then shows just how far we have come in a short space of time as invaluable members of the veterinary team providing professional care for the nation's animals."

More information about the celebrations is available on the RCVS VN Diamond Jubilee webpage. Members of the profession wishing to participate can do so by sharing memories or pictures of veterinary nursing on social media using the hashtag #VNDiamonds