Call for inclusion of genetic diversity in conservation strategies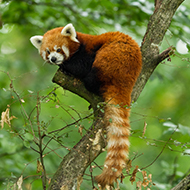 "We hope that our recommendations will be considered in future assessments worldwide - Dr Sílvia Pérez-Espona.
Scientists at the University of Edinburgh's Roslin Institute are calling for genetic diversity to be included in national conservation strategies.

Researchers say that failure to estimate and monitor genetic diversity in wildlife could prevent animals and plants from adapting to a changing environment.

The call comes after a review of more than 100 National Reports to see how countries in the Convention on Biological Diversity (CBD) assess and protect genetic diversity.

The review found that more than a fifth of the reports did not refer to genetic diversity in their national targets, and only five reported the use of genetic diversity indicators. Scientists say that the main indicators of genetic diversity reported by countries, such as whether species are threatened, do not reliably measure the loss of genetic diversity.

The findings are published in the journal Biological Conservation, along with recommendations that could be used to inform guidance on the conservation of genetic diversity in the future.

Dr Sílvia Pérez-Espona, lecturer and conservation science programme coordinator at the Roslin Institute, said: "Genetic diversity of all species, including the ones that are not deemed socioeconomically important, should be considered into national biodiversity strategies to ensure that species and their ecosystems are resilient to environmental changes. We hope that our recommendations will be considered in future assessments worldwide."

The United Nations described the CBD as the key international instrument for "the conservation of biological diversity, the sustainable use of its components and the fair and equitable sharing of the benefits arising out of the utilization of genetic resources".

With 195 member countries, the overall goal of the CBD is to encourage actions that will lead to a sustainable future.