Roslin Institute responds to gene editing consultation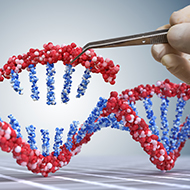 Organisation outlines why gene editing should not fall under genetic modification regulations.

The University of Edinburgh's Roslin Institute has published its response to a government consultation on the regulation of gene editing.

Launched in January, the 10-week consultation focused on preventing certain gene-editing organisms from being regulated in the same way as genetic modification, provided they could have been produced naturally or through traditional breeding.

In its response, the Roslin Institute shared its experience of research using gene editing and its potential to advance livestock and aquaculture production and sustainability. It stated that gene-editing offers new opportunities to improve traits of relevance to sustainable farmed animal production, including improving animal health and welfare and reducing environmental impact.
The organisation also outlined its reasons for proposing that gene-editing applications in animal breeding should not fall under genetically modified organism (GMO) regulations. It recommended that any new regulations are proportionate, assess the outcomes of the genetic change in terms of animal welfare and any potential environmental impacts, but are not driven by the use of gene-editing technology itself.

"Gene-editing technology offers the potential to efficiently enable beneficial changes in DNA," commented Professor Bruce Whitelaw, chair of animal biotechnology at the Roslin Institute. "Within animal agriculture, genetic engineering technologies hold great potential in mitigating disease, improving the welfare and productivity of animals, and addressing a demand for animal products driven by population growth and climate change."
Under a 2018 legal ruling from the European Court of Justice, gene editing is regulated in the same way as genetic modification. On announcing the consultation, environment secretary George Eustice said that gene editing could help farmers with crops resistant to pests, disease or extreme weather, and produce healthier, more nutritious food.

The National Farmers Union welcomed the consultation, saying "it could be a very important tool to help us meet the challenges for the future." But the move sparked concern from the RSPCA, which said it would be a "huge mistake" for government to "water down" the legislation.