RVC's 'Blood Donor of the Year' awarded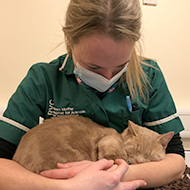 The organisation celebrates World Blood Donor Day with the awards.

The Royal Veterinary College (RVC) is celebrating World Blood Donor Day (June 14), by honouring the animals that donate to its blood donor programme.

Donated blood helps to save the lives of hundreds of pets each year. As part of these celebrations, the RVC Animal Care Trust, the RVC's registered charity, has presented 'Blood Donor of the Year' awards to two families of canine and feline blood donors in recognition of their life-saving donations.

The first award has been given to the Lines family. Cydney, their German shepherd and Rottweiler crossbreed, Bernie, their St Bernard and Labrador crossbreed, and Dash, their German shepherd and Great Dane crossbreed, have all made donations that facilitated more than one hundred transfusions. The dogs have retired from the service after seven years, and have been a lifeline to so many others. Sadly, Dash passed away earlier this year, and so the award is also given in honour of his service, and as a celebration of him and his family.

Gill Lines, recipient of the Canine Donors of the Year award, said: "We are so thrilled to have been given this award, especially after losing Dash. We just love being a part of the blood transfusion team and it always feels so wonderful when we receive thank yous from owners whose pets have been saved by our lovely boys.
"We have signed up a few friends to the scheme over the years and would recommend it to everyone. Our boys have loved the attention (and the food!) and we love that they are so well looked after and have their bloods checked regularly as a result. Now that our dogs are retired, we hope to be back with new family members in the future."
The feline donor award has been awarded to the Wood family. The Wood family first became aware of the programme when Meadows, their cat, was referred to the RVC for treatment. Meadows sadly passed away, but since 2016, Margaret Wood has been bringing in her five British shorthair cats to donate blood. Rusper, Uffington, Forrester, Clover, and Sir Redwood have made twenty-five donations between them, and have helped approximately fifty critically ill cats.
One of these donations was able to save a recently retired fellow feline blood donor, Mikey, who had been hit by a car and required a transfusion.
Margaret Wood, recipient of the Feline Donors of the Year award, said: "They love coming to donate blood and are spoiled rotten while they are here. This last year has been a challenge but my boys have given blood without me by their side very happily and have a good sleep in the car on the way home.
"My wonderful cats have now saved over fifty cats between them and that makes me so proud and is such an amazing legacy for my beloved Meadows."
The pioneering blood donor programme helps to keep hundreds of critically ill animals alive every year. Over 200 heroic cats and dogs visit the RVC's Queen Mother Hospital for Animals to donate their blood, and in the past year alone, there have been almost 500 canine transfusions, and almost 150 feline transfusions.

Charlotte Russo, senior transfusion medicine RVN at the RVC, explains: "Every year we are blessed with so many fabulous donors and every single one of them deserves the Blood Donor of the Year award. Both donor families we selected come in with their multiple pets to support each other through their donations. They are long-term, dedicated donors who have been on the programme for years and their pets have helped countless patients during their time with us."

The blood transfusion team is calling for more cats and dogs to donate to the programme, for more information, contact the RVC Blood Donor team at rvc.ac.uk/act/blooddonors