Long-term stress in dogs linked to relationship with owner, study finds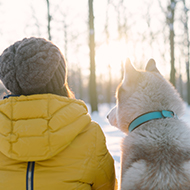 Herding breeds found to be most in sync with owners' stress levels.

A study by Linköping University, Sweden has concluded that a dog's stress levels are linked to its relationship with its owner and this connection varies between breeds.
Researchers collected hair samples from both dogs and humans to measure the levels of the stress hormone cortisol in them.
They collected samples from a variety of breeds, including 18 dogs bred for independent hunting, such as the Swedish elkhound, the Norwegian elkhound, and the dachshund. 24 ancient breeds which are closely linked to wolves such as the shiba inu, the basenji, and the Siberian husky were also assessed.
Owners were asked to complete a questionnaire about their own personality and their dog's. They also answered questions about their relationship with their dog, including emotional attachment, how they interact and any problems they experienced with dog ownership.
"The results showed that the owner's personality affected the stress level in hunting dogs, but interestingly enough not in the ancient dogs." Said Lina Roth, senior lecturer in the Department of Physics, Chemistry and Biology (IFM).
"In addition, the relationship between the dog and the owner affected the stress level of the dogs. This was the case for both types, but the result was less marked for the ancient dogs".
The researchers concluded that, although all breeds involved had links between stress and owner relationship, only herding dogs demonstrated the 'unique synchronisation' with long-term stress in the owner.
"We believe that the synchronisation of stress is a consequence of breeding the herding dogs for collaboration with people, while the relationship to the owner and the owner's personality are important parameters that influence the synchronisation of stress levels", says Lina Roth.