Animal physiotherapist receives VN Golden Jubilee Award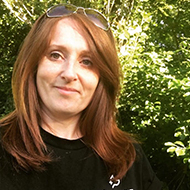 Kirsty Cavill RVN is recognised for her commitment to educating others.

Veterinary Nurse Kirsty Cavill has been awarded the VN Golden Jubilee Award as part of the RCVS' annual Honours and Awards.
Ms Cavill graduated as a veterinary nurse in 1991. As well as being head nurse for a busy veterinary company, she is a qualified galen myotherapist and a member of the International Association of Animal Therapists.
Ms Cavill runs PAWS Canine Myotherapy Care, serving communities across Devon and Cornwall, and volunteers with StreetVet and Canine Arthritis Management (CAM).
The VN Golden Jubilee Award recognises veterinary nurses who have had a sustained and distinguished career, demonstrating a leadership role within the profession and acting as an ambassador for the value of veterinary nurses and their work.
Ms Cavill was chosen as this year's recipient as a result of her commitment to helping older dogs with arthritis and to training and advising others on therapeutic techniques.
She was nominated for the Award by Lynsey Tindall RVN, a fellow volunteer at CAM. Ms Tindall said: "Kirsty is passionate about her role as a RVN and is an educational leader in her field who strongly feels that volunteering is a great way to give back to her profession, patients and colleagues.
"Kirsty is a proactive contributor to the CAM team, regularly sourcing and publishing blogs for the CAM website and has delivered lectures on behalf of CAM as well as writing and submitting articles for the veterinary profession."
Kirsty Cavill will receive her award at a formal ceremony held by the RCVS on Thursday, 23 September 2021.
Image (c) RCVS.