Study to explore threat of fatal disease in deer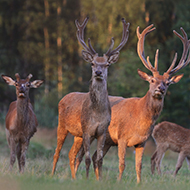 Findings will inform control strategies for chronic wasting disease.
Scientists at the University of Edinburgh's Roslin Institute have launched a new project to understand the threat of Chronic Wasting Disease on European deer.

Chronic Wasting Disease (CWD) is a progressive brain condition, similar to BSE (Bovine Spongiform Encephalopathy) in cattle, that affects deer and related species such as reindeer, moose and elk. Found primarily in North America, there have also been a small number of cases in Europe in recent years.

Through this study, researchers hope to inform efficient strategies to control infections and to understand the risks posed by CWD to farmed livestock and humans.

"We hope to shed light on how this disease could affect deer farms and wild deer populations – how infection occurs, how it spreads among deer and how it could potentially cross into other species," explained Dr Fiona Houston of the Roslin Institute. "With better insight, we can identify useful approaches to monitor and limit the likelihood of costly outbreaks."

CWD is a fatal neurological disease that causes emaciation, loss of bodily functions and abnormal behaviour. It belongs to the transmissible spongiform encephalopathies (TSEs) group of diseases, that also includes BSE in cattle and transmissible mink encephalopathy in farmed mink.

In the study, researchers will analyse cases in Norway and Sweden to develop a greater understanding of how CWD spreads. The international team will study details such as age, location, movements of affected deer and data on deer populations in these countries.

Guided by mathematical tools, the project aims to identify the disease and predict its potential spread so researchers can develop and test control strategies. Currently, farmed animals that contract CWD must be culled.

The team also aims to understand how an animal's genes influence its susceptibility to disease. Defining the genes that make animals more resilient to infection could lead to selective breeding in farmed animals or support research into a vaccine, scientists say.