Scottish SPCA appeals for building materials for National Wildlife Rescue Centre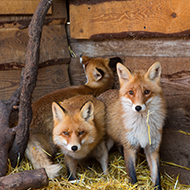 Donations will contribute to improvement and upkeep of housing.

The Scottish SPCA is appealing for building materials and resources that will aid in the upkeep of animal enclosures and aviaries at its National Wildlife Rescue Centre.
The charity currently cares for more than 10,000 wild animals, including badgers, deer, seals and all types of birds. Staff are planning to use the donated materials to build sleep boxes for the animals, as well as screening for inside paddocks – this will help to replicate the animals' natural environment.
Materials that the Scottish SPCA are asking for include:
all types of wood and plywood

animal safe paint

tools of any kind

fencing including mesh chicken wire etc.

old sheds.
Centre manager Anna Keen said: "These items are a bit beyond what we normally ask for so we are hoping that there might be people in Clackmannanshire who might be able to donate extra building materials or a local company might be able to help us.
"Even though these donations are not directly for the animals the benefit they have will be so beneficial. The upkeep of the enclosures and creating new sleeping boxes and spaces will allow us to provide the best possible care and give them the best chance of surviving when released back in to the wild."
As well as the request for building materials, the Scottish SPCA is also appealing for donations of milk and other items to care for baby animals, as the charity enters its busy period for these types of admissions.
For a full list of required building items, please click here. Donations can be dropped off at the Scottish SPCA's National Wildlife Rescue Centre in Fishcross, Alloa, or purchased through the charity's Amazon Wishlist.