HRH The Princess Royal supports new research into equine grass sickness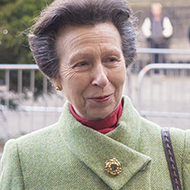 Moredun Foundation and Equine Grass Sickness Research Fund join forces on research Fellowship.

Her Royal Highness The Princess Royal has helped to launch a new research drive which aims to investigate the often fatal disease equine grass sickness.
The cause of equine grass sickness (EGS) still remains unclear and there are currently no treatments or vaccines to prevent the disease. Around 80 per cent of horses that contract EGS do not survive.
The Moredun Foundation (TMF) and The Equine Grass Sickness Fund (EGSF) are working together on an innovative three-year research Fellowship into EGS which will pool knowledge from both horse owners and researchers to help tackle the disease.
HRH The Princess Royal said: "I think that for Moredun to launch a Research Fellowship as part of its centenary and to choose to do so on equine grass sickness is pretty significant given their history, background and success in so many areas with livestock and diseases and I am delighted to launch this new Fellowship for equine grass sickness at Moredun."
The new research Fellow will be based at the Moredun Research Institute, leading the development of a new database and sample biobank to support future research.
Horse owners are being encouraged to take part in the project by becoming 'EGS detectives'. Reporting cases of the disease and submitting samples for the biobank as well as helping to raise awareness of EGS in their area.
Anne Logan, chair of the Equine Grass Sickness Fund said,:"It is a very exciting time for the Equine Grass Sickness Fund and we are delighted to be working with Moredun to take a fresh look at the disease through the work of the new Fellow and to develop a new database and biobank of samples as a valuable research resource going forward."