New study to explore dog owner awareness of separation anxiety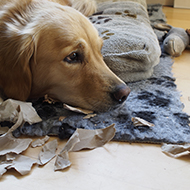 Project aims to show how changes in routine can impact a dog's behaviour.

A new study has been launched in a bid to help dog owners better understand separation anxiety.

The project will be led by Hannah Beard, a final year Veterinary Nursing with Small Animal Rehabilitation student at Harper Adams University.

Hannah launched the project following a placement, where she saw first hand the consequences of separation anxiety and the effect it can have on a dog's behaviour.

"I saw a lot of owners complain about their animals' destructive behaviours but instead of understanding, they became frustrated and sometimes thought it was a physical disease rather than a behavioural, treatable condition," she explained.
"Researching more, and seeing how many animals are relinquished and euthanised each year, astounded me."

As well as raising awareness of separation anxiety, Hannah's project aims to show how changes in routine can impact our canine companions - something that Hannah believes has become more important due to people spending more time at home during lockdown.

"Awareness will aid in protecting the owner and canine bond as understanding to aid prevention, is always much better than cure," she said.

Hannah is particularly keen to hear from dog owners that have had a disruption to their usual routine. Her survey can be found here and will remain open until the end of February.