Legislation to crack down on puppy farms made law in Scotland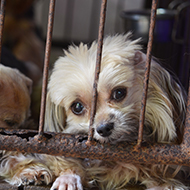 Lucy's Law will come into force in September.

New legislation which aims to bring an end to irresponsible breeding by banning the third-party sale of puppies and kittens has now been made law in Scotland.
The new legislation – known as Lucy's Law – means that anyone looking to buy a puppy or kitten under six months must purchase directly from the breeder themselves, rather than a pet shop or commercial dealer, or consider adopting from an animal rehoming centre.
Dr Ed Hayes, head of public affairs at The Kennel Club, commented: "We are delighted that these new animal breeding and sale regulations, which include Lucy's Law, have been made into law in Scotland – it's a long-awaited and crucial step.
"Sadly, too often irresponsible breeders in the UK and abroad have depended on commercial third party sellers, like 'dealers' or pet shops, to disguise the horrific conditions puppies are bred and brought up in to the public, readily making a huge profit while causing untold suffering.
"We hope Lucy's Law will help bring an end to this and alongside improving welfare conditions for puppies, it will also encourage anyone thinking of getting a puppy to really do their research and find a responsible breeder.
"This couldn't be more important right now, as we continue to see the demand for puppies rise during the pandemic."
The Kennel Club has also welcomed the Scottish government's updated breeding regulations, which differ from those in place in England, as they remove the 'over-complicated' and 'confusing' business test.
According to the Kennel Club, the business test has discouraged responsible one to two litter breeders from breeding, creating an opportunity for puppy importers and puppy farmers to take advantage of the high demand for puppies.
Parliamentary liaison officer for the Scottish Kennel Club, Richard Morrison, added: "Alongside Lucy's Law, which is a huge win for dog welfare, we believe the more simple approach to licensing will be better for dogs and puppies across the nation, encouraging high welfare, responsible and caring breeding while stamping out those who carelessly churn out puppies for profit."