First-ever pet receives PDSA Order of Merit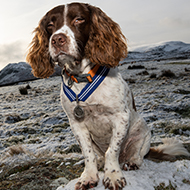 Springer spaniel Max honoured for his outstanding contribution to society.

An English springer spaniel who provided support to thousands as a virtual therapy dog has become the first-ever pet to receive the PDSA Order of Merit, the animal equivalent of an OBE.

Thirteen-year-old Max - a trained therapy dog with Assistance Dogs UK - received his award during a virtual ceremony on Friday (19 February).
The honour recognises animals who display outstanding devotion above and beyond normal companionship and animal acts that symbolise their special relationship with humans.

Max and his owner Kerry Irving rose to fame during the COVID-19 pandemic when they started filming their daily walks in the Lake District and sharing them on Facebook. Their followers grew as more people visited the page to enjoy their adventures, prompting Kerry to rename the page 'Max out in the Lakes'.

Max's walks alongside his brother Harry have provided virtual support to thousands of social media followers when many were anxious about their health, economic security and social isolation. Some fans even requested to meet Max and Kerry, and Kerry was happy to oblige.

Not only that, Max's companionship has been life-changing for Kerry, who was diagnosed with severe depression after an accident in 2006. Max gave Kerry a reason to walk again and, 12 months after they met, the pair even took on the enormous challenge of climbing Ben Nevis.

Kerry Irving said: "When I was at my lowest, Max became my reason to live, and he continues to make me smile every day. Being able to share the support, comfort and joy that Max brings to thousands of people has been a privilege.

"We receive daily messages from people all over the world, saying how Max's adventures make them smile and bring joy to their life. Each has their own personal story."

He added: "I have met soldiers who served in Afghanistan who say they used to look at Max's page to remind them of home. I've also received messages from NHS staff working on the frontline during the pandemic, who have found moments of peace and escape with Max.

"It is a huge honour for Max to be awarded the PDSA Order of Merit. He is extremely deserving of this award, and I am immensely proud of him."

As a therapy dog, Max has met more than 10,000 people through charity walks, public appearances, school visits and book signings. He has also helped to raise nearly £300,000 for various charities, including PDSA.

Commenting on today's award, PDSA Director General, Jan McLoughlin, said: "Max has provided a source of huge comfort – not only to his owner Kerry – but to thousands of people across the globe who are facing or have gone through, hard times.

"He has become a true ambassador for the positive impact that animals have on mental health and wellbeing, which is more important now than ever. PDSA is honoured to recognise Max with the PDSA Order of Merit, for embodying the contribution that animals make to human lives, beyond ordinary companionship."
Image (C) PDSA