Airlifting endangered creatures 'safer than expected', study finds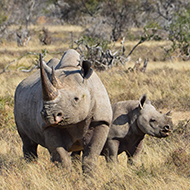 Findings provide vital information for conservationists.

A new study analysing the effects of airlifting black rhinoceroses while hanging them upside-down by their feet has found that this method of transportation is actually safer than previously thought.
While this technique of moving rhinos has been used by conservationists for ten years, there have been no studies which scientifically document the clinical effects of the practice on the animals during transportation or any potential negative effects it may have on them after waking up.
Researchers from Cornell University College of Veterinary Medicine conducted a field study, in collaboration with conservationists from Waterburg National Park in Nambia, where they examined 12 rhinos in two different positions: hanging by their feet from a crane to mimic the effects of air transport, or laying on their side as they would during the immediate period after darting and transport on a sledge.
They theorised that the airlifting method would be the most risky as it could exacerbate the dangerous effects of the anaesthesia drugs used to tranquillize the animals.
The team tested each rhino in both positions, which allowed them to make direct comparisons of breathing and circulation while the rhinos were hanging upside down or lying on their sides.
Lead author Dr Robin Radcliffe said: "Hanging rhinos upside-down actually improved ventilation (albeit to a small degree) over rhinos lying on their sides."
"While this was unexpected, and the margins small, any incremental improvement in physiology helps to enhance safety of black rhinoceros during capture and anesthesia."
In remote habitats such as those in Nambia, airlifting is often required for up to 30 minutes, so the researchers' next step is to extend the time that rhinos are suspended for to mimic the aerial transport of rhinos in the real world.
Dr Radcliffe concluded: "Now that we know that it's safe to hang rhinos upside-down for short periods of time, we'd like to make sure that longer durations are safe as well."