New scheme to protect newts rolled out across Lancashire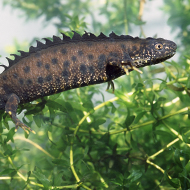 Creation of pond networks will provide vital habitat for protected species

The Government has launched a new scheme which aims to improve protections for great crested newts by making it easier to maintain their existing habitats and create new ones.
The new 'District Level Licensing' scheme (DLL) uses conservation payments from developers to create and restore ponds in locations that are suitable for great crested newts.
This will create a network of ponds that help newt populations recover and thrive. Natural England will also be working in partnership with Lancashire Wildlife Trust to monitor and maintain the ponds for the long term.
This scheme will also be beneficial for local people and developers, as previously developers had to apply for a mitigation licence before building on or around the places where newts live. This led to costly delays which affected the completion of housing and other public works projects.
Ginny Hinton, Natural England Cheshire to Lancashire area team manager, said: "District level licensing is transforming a difficult planning process into one that is a real conservation success story.
"The rollout of this scheme in Lancashire represents a win-win for both local developers and the future of this iconic species. It's a fantastic example of working in partnership at a landscape scale."
By the end of March this year, Lancashire Wildlife Trust will already have created or restored nearly 60 ponds across the county for the scheme.
John Lamb, senior conservation officer for the charity said: "I am really encouraged by landowner enthusiasm to create new ponds for the scheme. Everyone recognises that the ponds will benefit a wide range of wildlife and Trust staff are looking forward to continuing this important work so that hotspots of newts can expand and populations can merge and flourish."