Wild Welfare launches free digital education programme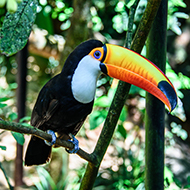 Online resource aims to tackle global animal welfare issues

A new, free online animal husbandry programme has been created by charity Wild Welfare, as part of its global work to improve the welfare of captive animals across the world.
The open-access online programme – called Wild About Welfare – provides a comprehensive introduction to animal husbandry for animal care staff in zoos, aquariums and sanctuaries.
It was produced in collaboration with The Jeanne Marchig International Centre for Animal Welfare Education (JMICAWE) at the University of Edinburgh.
The programme is split into separate modules on subjects such as animal behaviour, animal welfare needs and animal enrichment. It can be taken one module at a time or as a complete course.
The resource can be accessed on smartphones, tablets and computers and includes videos, pictures and interactive quizzes.
Dr Heather Bacon, OBE of JMICAWE, who worked on developing the content with the Wild Welfare team said: "We are delighted to partner with Wild Welfare on producing this important educational resource.
"Our team has established expertise in animal behaviour and welfare science, and digital education.
"Combining this with the practical experience and expertise of the Wild Welfare team, has resulted in an accessible, interactive resource that aims to improve captive animal welfare globally, by inspiring caregivers to optimise animal husbandry in wildlife facilities."
Wild Welfare aims to address knowledge gaps that may result in captive animal suffering, drawing on its research into the most common captive animal welfare issues.
Simon Marsh, Wild Welfare's acting UK director, added: "This programme will enable animal care staff the opportunity to address these issues and improve animal welfare.
"Education is key, and by offering people a way to access good quality information, we can help ensure they are better able to play their part in providing good welfare for the animals in their care."