RCVS encourages more diverse range of applicants to apply for Fellowship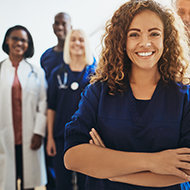 Deadline for Fellowship applications is 15 February

The Royal College of Veterinary Surgeons (RCVS) is urging a more diverse range of veterinary surgeons to apply for its 2021 round of Fellowships, ahead of the February deadline.
Prospective fellows have until 5.00pm on Monday 15 February 2021 to submit an application for with supporting evidence on their route to entry. This can be either: Meritorious Contribution to Clinical Practice, to Knowledge or to the Profession.
Since the Fellowship's relaunch in 2016, less than one-third of successful applicants have been women, so the Fellowship Board is particularly invested in seeing more women apply to join the learned society.
Dr Mary Fraser FRCVS, an academic based at the University of Stirling and the RCVS Fellowship Board Member for Projects and Engagement, explains: "We have seen a remarkable uptick in the number of people joining the Fellowship – including women – over the past few years since it was re-developed and re-launched.
"However, there is still quite a stark imbalance between men and women, both in terms of the current composition of the Fellowship and those who are currently applying.
She went on the reassure female veterinary surgeons that they were eligible to apply if they have played a leadership role within the professions, advanced the public understanding of veterinary work or helped to advance knowledge in a particular subject area by publishing research and papers.
RCVS president Dr Mandisa Greene added: "It is important this learned body encourages women, and others from backgrounds that may currently be under-represented, to apply so it can begin to reflect more evenly the demographics within our profession and society at large."
A full list of requirements, along with an application form and supporting documents is available at: www.rcvs.org.uk/fellowship
Potential applicants are welcome to contact fellowship@rcvs.org.uk for an informal chat and guidance.