US pet food recalled following deaths of 70 dogs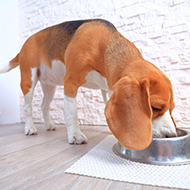 Tests revealed 'very high levels' of aflatoxins in recalled food

Pet food manufacturer, Midwestern Pet Foods has recalled several of it's products following the deaths of more than 70 pets that ate the food.
The company initially announced a recall of certain products in it's Sportmix range in December 2020, after the US Food and Drug Administration (FDA) received reports about 28 dogs that had died and eight that were ill after consuming the food.
In a statement the FDA said: "Multiple product samples were tested by the Missouri Department of Agriculture and found to contain very high levels of aflatoxins."
Aflatoxins are toxins produced by the mould Aspergillus flavus, which can grow on corn and other grains used in pet food. At high levels, it can cause illness and even death in pets.
The recall was expanded this week after further deaths and cases of illness were reported. The recall now includes Sportmix, Pro Pac Originals, Splash, Sportstrail and Nunn Better dry dog and cat foods produced at Midwestern Pet Foods Oklahoma plant that have an expiration date on or before 9 July 2022.
"We continue a thorough review of our facilities and practices in full cooperation with FDA in an effort to better serve our customers and pet parents who put their trust in us." The company said in a statement.
The FDA states that the number of pets affected is an approximate count as not all cases have been officially confirmed as aflatoxin poisoning through laboratory testing or veterinary record review.
It has issued an advisory to notify the US public about the potentially fatal levels of aflatoxins in Midwestern Pet Food products that may still be available.