BSAVA reveals programme for virtual congress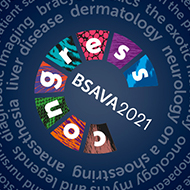 Event promises more than 100 speakers and dedicated exhibitor stream.

The full programme for BSAVA's 2021 virtual congress is now live, including more than 130 CPD hours, UK and international speakers and an extensive range of practical resources.
Taking place 25 to 27 March, the event promises more than 100 speakers and a new format that blends clinical, practical and interactive content across a range of topics. There will also be shorter sessions and the introduction of new two-speaker sessions on everyday topics focussing on primary care practice.
BSAVA president Professor Ian Ramsey said: "Following months of meticulous planning we are thrilled that the programme is now live. The sheer range and high quality of our speakers and content, together with our new, more dynamic format takes webinar learning to a new level."
Described as a 'who's who' of the veterinary world, the list of speakers includes Ernie Ward from the USA, who will be speaking about recruitment and retention, and Holger Volk from Germany, who will present on aspects of neurology on a shoestring.
The list of UK speakers includes Rebecca Geddes on kidney medicine and nursing, Amy Newfield on IV access techniques, and Rob White on brachycephalic surgery and acute abdomen surgical techniques.
Four simultaneous live streams will deliver more than 80 live sessions covering 24 module topics, together with a library of 100 on-demand webinars and other resources. Many of the modules have relevant presentations woven in to make them suitable for the whole practice team.
There will also be a dedicated exhibitor stream every day. The live and on-demand content will be available to delegates on the platform for 60 days, and then via the BSAVA Library.
Professor Ramsey continued: "Delegates will be able to develop their skills and knowledge on topics they see regularly in practice. To make things even easier we will be providing practical resources such as client handouts for delegates to take back to their clinics.
"This, coupled with many speakers sharing their own notes and practical resources means less note-taking and a quicker and easier way for delegates to share what they have learnt with their colleagues."