Blind kitten's sight restored through liver operation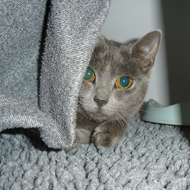 Veterinary team successful treats a portosystemic shunt

A blind kitten has had it's sight restored after an intricate operation was carried out on it's liver at an animal hospital in Yorkshire.
The kitten, called Purdy, was diagnosed with a congenital portosystemic shunt after blood tests and a CT scan at Paragon Veterinary Referrals in Wakefield, West Yorkshire.
Mickey Tivers, an RCVS specialist in small animal surgery and head of surgery at Paragon, said:"[A congenital portosystemic shunt] is a defect which causes the blood to bypass the liver making it unable to absorb essential nutrients or remove dangerous toxins.
"This causes a number of problems. Affected animals are often small, and underdeveloped and suffering from problems in the nervous system because of the toxins.
In severely affected cases this defect can cause tremors, seizures and, as in Purdy's case, blindness.
In an effort to reduce the toxins in her system, Purdy was given lactulose and antibiotics and put on a special diet. However, surgery was required to stop the blood from bypassing the liver.
"First we injected dye into a blood vessel in Purdy's intestine," explains Dr Tivers, "and tracked its flow using fluoroscopy in a bid to properly identify the shunting vessel and assess the development of her liver.
"It confirmed the presence of a portosystemic shunt, as expected, but also revealed that Purdy's liver was not very well developed, meaning she could not have the shunt fully closed straight away.
"We placed an ameroid constrictor around the shunt, a special device that slowly closes the shunt over a period of weeks, allowing the liver to gradually grow and develop so it can cope with the blood flow."
Purdy recovered well and after two months she was off her medication and all of her clinical signs had resolved. Follow-up blood tests showed that her liver was working normally, with normal bile acids, suggesting that the surgery has been successful.