Rise in people looking to give up unwanted animals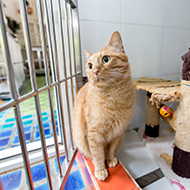 Owners urged to consult trainer or behaviourist before surrendering pets

The Scottish SPCA has reported a spike in calls to its helpline about unwanted animals as hundreds of people are coming to regret their decision to purchase 'lockdown pets'.
Between 1 September 2020 and 5 January 2021, the charity received 476 calls from people considering giving up their animals. This is compared to 205 calls in the same period in 2019/20.
Calls from people looking to give up unwanted dogs have increased 103 per cent, while calls about unwanted cats have shot up by 151 per cent.
Chief superintendent Mike Flynn said that the charity has been concerned about a rise in unwanted animals since the surge in people buying or adopting pets across last year as they spent more time at home.
He added: "People should consider their future lifestyle and how to help their pet adapt. Spending time away from their pet so they can get used to being alone is a good start.
"It is heart-breaking to see a healthy animal which loves their family given up because the owners have lost interest or not considered how their circumstances may change. We would urge people to consider a reputable behaviourist or training before they give up their pet.
Thankfully, the charity has not seen the same increase in abandonments across this period, despite the increase in people wanting to surrender their pets.
"People who are considering adopting an animal should think long and hard about their circumstances and whether it is the right thing to do." Mr Flynn concluded, urging anyone considering giving up an animal to contact Scottish SPCA's confidential helpline.