AAFP ends elective declawing procedures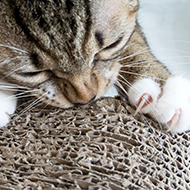 International Cat Care welcomes 'important step forward for feline welfare'.

The American Association of Feline Practitioners (AAFP) has announced that it is ending elective declawing procedures for all felines under its Cat-Friendly Practice (CFP) scheme.

AAFP rolled out the update across its CFP practices in North, Central, and South America on 1 January, and said that it will be standard in all new practices that wish to earn the designation moving forward.
The move follows several years of work alongside the International Society of Feline Medicine (ISFM), the veterinary arm of International Cat Care (iCatCare).

Welcoming the announcement, ISFM head Nathalie Dowgray said: "ISFM is delighted this has now been achieved – it is an important step forward for feline welfare. AAFP's Claw Friendly Educational Toolkit is a great resource for practices choosing to stop undertaking declawing.
"Both organisations will also work to educate owners around the world that scratching is a normal and essential feline behaviour, and that the procedure of declawing is definitely not cat friendly."

Many regions throughout the world, including portions of North America, have banned feline declawing procedures unless there is a necessary medical reason. Indeed, many cat owners are unaware that clawing is a normal feline behaviour that allows the animal to stretch and de-stress,.

The CFP scheme was established by the AAFP and the ISFM as part of a global initiative to improve feline welfare. A CFP designation is a recognised symbol of excellence showing a practice's commitment in treating feline patients gently and with respect.

An AAFP spokesperson said: 'This announcement aligns with the AAFP's 2017 Position Statement that strongly opposes declawing of cats as an elective procedure. In making this exciting announcement, the AAFP continues supporting high standards of practice, continuing education, and evidence-based medicine'.