BVA renews call to 'respect your vet' during lockdowns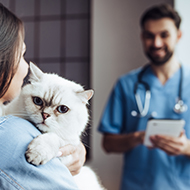 "Veterinary care is still available but it's not business as usual" - James Russell.
The British Veterinary Association (BVA) has renewed its call to the public to respect their veterinary teams during the national COVID-19 lockdowns.

Across England, Scotland and Northern Ireland, veterinary practices are being urged to only carry out work that is essential for animal health and welfare. This requirement means that some practices may need to postpone routine work and cancel appointments, so long as it is safe.

In light of the recent lockdowns, BVA is once again calling on animal owners to respect the clinical judgement of veterinary surgeons and veterinary nurses when deciding whether their animals need a face-to-face examination. Clients who do visit their vet must abide by the social distancing and biosecurity measures that have been put in place, the organisation said.

BVA president James Russell commented: "This is a serious public health crisis and it's vital that we all play a role in stopping the spread of Covid. Veterinary care is still available but it's not business as usual. Vets are being asked to restrict the range of services they can provide during these new lockdown periods to support the strong 'stay at home' message.

"Vets and nurses may need to cancel some routine appointments or they may need to deliver services remotely, for example, phone or video consultations. Some practices may ask you to stay outside the building. This is to keep you and the veterinary team safe."

"During the first lockdown we heard worrying reports of clients being abusive to veterinary teams when new measures were put in place. This behaviour cannot be tolerated. I'm incredibly proud of our veterinary teams across the UK, who have been working under difficult circumstances throughout the pandemic.

"Our message to animal owners is please respect your vet, listen to their clinical judgement, and follow the Covid-safe measures they put in place.