London Zoo undertakes annual stocktake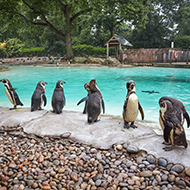 Keepers tally more than 400 species behind closed doors

Zookeepers at ZSL London Zoo began their annual stocktake this week, continuing their essential work despite the zoo's closure as a result of the national lockdown.

Kathryn England, ZSL London Zoo's chief operating officer, said: "There's no doubt that 2020 was the most challenging year in our almost 200-year history – national lockdowns saw us closed for 18 weeks, cutting off millions of pounds of vital charitable income from lost ticket sales – but kicking off this new year with the annual stocktake is a chance to reflect on some of our achievements in the face of these challenges."
The zoo welcomed multiple births across 2020, including two otter pups, a critically endangered Waldrapp ibis chick and a female okapi calf, which was born as part of the breeding programme for the endangered species.
A critically endangered Sumatran tigress called Gaysha was also brought over from Ree Park Safari in Denmark. She was reunited with her former mate, Asim, in mid-December.
The zoo's animal manager, Angela Ryan, said: "ZSL London Zoo is home to more than 400 species, from endangered Asiatic lions to critically endangered Chinese giant salamanders – we're working not only here in the Zoo to increase their numbers and learn more about these amazing animals, but on conservation projects around the world too."
The annual task takes almost a week to complete and some keepers had to use imaginative methods to tally the zoo's many animals. For example, rather than tracking hundreds of individual ants, the team at B.U.G.S count colonies as one.
This information will be uploaded to the ZIMS database and shared with zoos around the world in order to help manage worldwide conservation breeding programmes for endangered species.
Image (c) ZSL London Zoo.