Rare white tiger cub born at Nicaragua zoo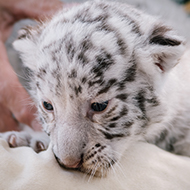 Cub being raised by humans after mother rejected it

A white tiger cub has been born to two yellow and black Bengal tigers at the National Zoo of Nicaragua.
According to the BBC, the female cub – named Nieves (snow in Spanish) – is just over a week old now. She is the first white tiger to have been born in the country.
The cub's mother, Dalila, who was rescued from a circus five years ago, rejected the cub and could not produce milk to feed her.
Nieves is now being hand-raised by the zoo director's wife, Marina Argüello, who feeds the cub warm goat's milk every three hours.
According to the WWF, white tigers get their colour from the expression of a recessive gene. They are found only among the Bengal tiger species and none are currently known to exist in the wild.
Nieve's mother was known to carry this recessive gene, which she inherited from her father – another white Bengal tiger.
White tigers are frequently inbred to maintain their unique fur colour. However, this inbreeding can lead to a number of deformities and health problems.