Views sought for Red Tractor's 2021 standards review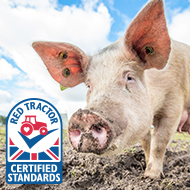 Consultation on changes to farming standards launched

The UK's largest food standards scheme Red Tractor is seeking input from across the farming industry for a new consultation on ways to advance its farm standards.
The consultation, which opened on Monday (4 January), put forward proposals on amendments to standards across the scheme's six sectors; beef and lamb, poultry, pigs, dairy, fresh produce and combinable crops and sugar beet.
These proposed standards will come into effect in November 2021 and have been developed in collaboration with farming organisations, veterinary professionals, farmers and retailers over the past 12 months.
Red Tractor CEO Jim Moseley said: "These proposals strive to strike a delicate balance which protects and promotes our members, reassures consumers and customers, while acknowledges the implications of the challenges that the industry faces with future trade deals and the agricultural transition plan."
Examples of these proposed changes include:
having animal welfare outcomes linked to standards and providing clear guidelines as to what is and isn't acceptable when handling animals

integrating worker welfare into the standards to ensure members are working to protect the safety and wellbeing of farm workers. This will help improve UK agriculture's health and safety record, as farming is currently identified as an at-risk sector for labour exploitation

more meaningful and accessible environmental protection standards adapted from Defra's Farming Rules for Water, which aim to reduce soil erosion and nutrient run-off.
In addition to the Standards Consultation, Red Tractor has also launched the What Matters To You Survey. This asks industry workers and representatives for their views on how Red Tractor can better understand their business and work with them more closely.
Further information, including a full list of proposed changes by sector and information on how to respond to the consultation can be found on the Red Tractor review hub.
The consultation and review closes on 5 March 2021.