Avian influenza confirmed in Devon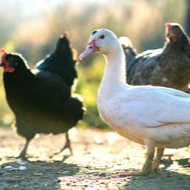 A 3km Protection Zone and 10km Surveillance Zone has been declared around the premises.

A protection zone has been placed around a premises in Exmouth, Devon, after the confirmation of avian influenza in backyard poultry.

The discovery has been confirmed by government officials as highly pathogenic avian influenza (HPAI) H5N8.

An update from the Animal and Plant Health Agency (APHA) on Wednesday (30 December) reads: 'Highly pathogenic (H5N8) avian influenza has been confirmed in backyard poultry at a premises near Exmouth, East Devon, Devon. A 3km Protection Zone and 10km Surveillance Zone have been declared.'

This is the eleventh case HPAI H5N8 in poultry in England. There have also been three recent cases of H5N8 in other captive birds and one case at a premises in Orkney, Scotland. Multiple species of wild birds have also tested positive for the disease in recent weeks.

All bird keepers in England are required by law to take a range of biosecurity precautions, including housing their birds, except in very specific circumstances. These housing measures build on the strengthened biosecurity regulations that were introduced as part of the Avian Influenza Protection Zone (AIPZ) on 11 November.