Pirbright to support national Track and Trace programme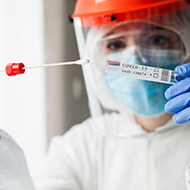 Scientists will play a key role in diagnostics training at the BSPS Lighthouse Laboratory.
The Pirbright Institute has announced it is to support the national NHS Test and Trace Programme by providing induction and training for staff joining the new Lighthouse Laboratory in Bracknell.

Operated by NHS Berkshire and Surrey Pathology Services (BSPS), the Lighthouse Laboratory is being established to test COVID-19 samples as part of the UK's efforts to tackle the coronavirus.

To support the service, scientists at The Pirbright Institute will play a key role in diagnostics training, teaching newly-recruited staff how to use the state-of-the-art diagnostics equipment located at its Surrey campus. The induction programme will include sample management and bio-safety followed by a period of training in scientific diagnostic procedures.

"We are extremely proud to offer our diagnostic expertise for training the Lighthouse Laboratory's new staff to the highest possible standard," commented Pirbright's director, Professor Bryan Charleston. "The accommodation of the new training programme at Pirbright has happened at record speed, requiring our staff to adapt rapidly to ensure both the equipment and training protocols are ready to receive the first recruits for training."

The Pirbright Institute is home to several Reference Laboratories in highly infectious viral livestock diseases, including African swine fever (ASF) and foot-and-mouth-disease (FMD). The Institute also has significant expertise in surveillance and diagnostics, particularly concerning disease outbreaks.

The Institute will provide ongoing training to the Lighthouse Laboratory during 2021. It will also be offering up a number of its experienced scientists in secondment to the new facility to assist with high throughput diagnostics.