Report highlights spike in behaviour and obesity problems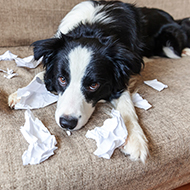 PDSA findings reveal concerning trends associated with the COVID-19 lockdown.

There has been a rise in behavioural issues in dogs and cats as a direct result of the pandemic restrictions, according to to the latest PDSA Animal Wellbeing (PAW) Report.

Figures reveal that one-in-five owners (1.9 million dogs) said their dog has displayed a new behaviour during lockdown, with five per cent reporting their dog had started showing signs of distress when left alone, raising concerns over the long-term impact of the crisis on separation-related behaviours.

Around a quarter of cat owners (2.3 million cats) have noticed new behaviours in their cat since the start of lockdown, with 15 per cent saying their cat was spending more time outdoors and six per cent saying their cat was vocalising more, equating to 590,000 cats.

Links between the lockdown and deepening rates of pet obesity are also highlighted in the report. Around eight per cent of owners stated their dog gained weight during lockdown - potentially affecting 790,000 dogs - while six per cent of cat owners said their pet gained weight.

"As well as contributing to our long-term view of pet wellbeing, this unique Report has helped to provide early insight into how the Covid-19 pandemic is affecting the UK pet population," commented PDSA Director of Veterinary Services, Richard Hooker.

"The Report reflected the enormous positive impact that pets have on people's lives, something which our vet teams see every day in our Pet Hospitals across the UK – with roughly half of owners surveyed (49%) agreeing that their pet has been "a lifeline" during these challenging times. "

He continued: "Our pets play an invaluable role in providing companionship, alleviating stress and loneliness and helping safeguard owners' health and wellbeing. "However, PAW has also shown some worrying trends, especially relating to increased behavioural issues as a result of owners spending more time at home.

"Rising rates of obesity in dogs, cats and rabbits is also extremely concerning for the veterinary professions, when it is already estimated that up to half of UK pets are overweight or obese."

In more positive news, the report also found that fewer rabbits are being fed muesli as one of their main food types, from 49 per cent in 2011 down to 18 per cent in 2020.
The proportion of pets who have been microchipped has increased for all species, with 92 per cent of dogs now microchipped, compared to just 70 per cent in 2011 (74 per cent in cats).

The PDSA is holding a free webinar in partnership with The Webinar Vet on 3 December at 12 pm to discuss the report's findings. The event will discuss significant trends and what they mean for the veterinary profession, featuring leading speakers from across the sector.