Emotions and mood influence animal behaviour, study finds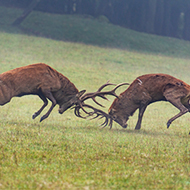 Discovery could have practical benefits for animal welfare.
Emotions and mood influence animal behaviour in a similar way to humans, according to new research.

Findings published in the journal Proceedings of the Royal Society B. suggest that animals display positive moods when they "win" and negative moods when they "lose".

Principal investigator Dr Gareth Arnott from Queens University Belfast, said the discovery could have practical benefits for the future of animal welfare.

"Good welfare requires animals to have few negative emotions and lots of opportunities for positive experiences, he said. "Understanding animal emotions and why they evolved will, therefore, help us to measure and improve animals' emotional states and welfare."

Researchers previously investigating animal contests have focused on how animals assess the value of a resource and their opponent's fighting ability. In this new study, scientists argue that assessments contribute to an animals' emotional state, and that emotions drive animal behaviour.

Their paper indicates that, just as depressed or anxious humans are more pessimistic about the future, animals that lose fights are more negative and pessimistic, and are therefore less willing to engage in future fights.

Lead author Andrew Crump, a postdoctoral researcher from the School of Biological Sciences at Queen's, explained: "Human emotion influences unrelated cognition and behaviour. For example, people rate their overall life satisfaction higher on sunny days than rainy days.

"We have found that animals' emotions also influence unrelated cognition and behaviour. For example, animals that won a contest experienced a more positive mood and expected fewer predators in their environment. Similarly, animals that lost a contest experienced negative emotions and took part in less future contests. These carryover effects may lead to maladaptive behaviour."