Novel cat genome identifies link to feline dwarfism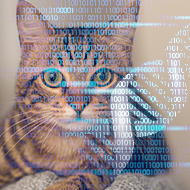 Study could lead to earlier disease detection and treatments with fewer side effects.
Researchers in the USA have discovered a genetic mutation linked to feline dwarfism with a gene not previously linked with dwarfism in any species.

Scientists at the University of Missouri and Texas A&M discovered the new variant by developing a new cat genome reference model in a bid to uncover new links between DNA mutations and feline disease.

The model, which is part-funded by Purina, is said to be 'vastly more accurate and improves scientists' ability to identify DNA variations that influence the health of individual cats'.

Felines suffer from many of the same diseases that affect humans. However, the level of genetic information available to help develop new tests and treatments in humans has not been available for cats.

To help rectify this, researchers applied the new model to 54 cat genomes to identify variations that could be the cause of disease in domestic cats. The genetic mutation linked to feline dwarfism is one of the several discoveries detailed in the journal PLOS Genetics.

Looking ahead, the team hopes to use the model to extend the use of precision medicine in feline veterinary care. The resource could enable scientists to develop more useful genetic screening tests, provide earlier disease detection, and lead to the development of improved treatments with fewer side effects.