Children's TV vet wins BVA Young Vet Award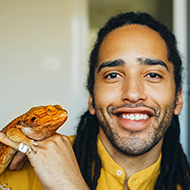 Fabian Rivers recognised for commitment to communicating exotic pet's needs

Small animal and exotics veterinary surgeon Dr Fabian Rivers, who stars in the CBBC programme The Pets Factor has received the BVA Young Vet of the Year Award.
Dr Rivers was selected from three finalists in a virtual ceremony held on 13 November. He won first place in the award, which recognises young veterinary professionals who go above and beyond what is expected of them early on in their career or who make an outstanding contribution to the veterinary profession.
A recent graduate member of BVA Council, Dr Rivers has a history of working with exotic species – from working with African penguins in Cape Town to presenting case studies on tortoises whilst at university.
The judges credited Dr Rivers for his passionate approach to educating the public on the complex needs of non-traditional companion animals.
Commenting on his award, Dr Rivers paid tribute to all the other nominees, adding: "They are really important to where the veterinary profession goes in the future and I'm indebted to them for what they've been able to do in a short period of time. They are an inspiration to me.
He continued: "Thank you to the judges. It's really important that we start to celebrate each other and celebrate our wins. This is something I've tried hard to do this year.
"Thank you to everyone who's supported me and been part of this journey. It means a huge amount."
BVA president James Russell said: "Fabian has made a significant impact within the profession and beyond. The broad reach of his work – on issues that affect our profession and animal welfare – has made a national impact and promoted our profession to new audiences of all ages.
"During a particularly challenging year for all of us, Fabian has shown immense leadership and he is a truly deserving winner of the BVA Young Vet Award 2020."
Image (c) BVA.