Novel approach to amoebic gill disease in salmon could benefit humans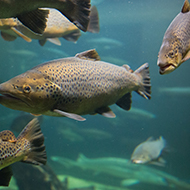 Scientists to repurpose drugs used to treat human parasitic diseases.

Researchers at the University of Glasgow are developing a novel approach to the treatment of amoebic gill disease that could drive down the cost of drugs currently used to treat parasitic diseases in humans.

Caused by the parasite Neoparamoeba perurans, amoebic gill disease (AGD) is major disease of farmed Atrlantic salmon, resulting in severe economic losses across the world. The parasite causes proliferative gill disease, with symptoms including increased mucus on the gills, swollen tissue and breathing difficulties.

In the study, scientists propose to repurpose drugs used to treat human parasitic diseases, such as sleeping sickness, Chagas disease and leishmaniasis, to manage AGD in Atlantic salmon.
Using the University's 'drug discovery pipeline', researchers propose to test the potency of these drugs against Neoparamoeba perurans. The team will then test a candidate drug for activity against ADG in Atlantic salmon at a marine trial site in Ireland.

Researchers hope that by opening new markets for these drugs, it will drive down the cost of parasitic treatment in humans, particularly in the developing world where unaffordable healthcare can lead to millions of unnecessary deaths.

Study co-author Dr Martin Llewellyn, said: "This project is a great opportunity to understand some of the science behind symbiosis, develop a much-needed drug for salmon aquaculture and also hopefully have a beneficial impact on the treatment of diseases that impact the lives of hundreds of millions of people in the tropics."

Funded by the BBSRC, the project will involve a collaboration with the Marine Institute, Ireland and Dalhousie University, Canada.