Virtual veterinary nursing ceremony to welcome new registrants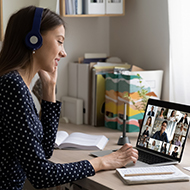 Event will celebrate newly-qualified VNs with presentations from VN Golden Jubilee Award winners.

More than 70 veterinary nurses (VNs) are set to be welcomed to the profession later this month in a special virtual ceremony hosted by the RCVS.

Taking place on Thursday, 12 November at 7.30 pm, the event will open with an address by VN Council chair Matthew Rendle and RCVS President Mandisa Greene, after which Matthew will take all the veterinary nurses present through their professional declarations.

In addition to reading out the names of all the new registrants, Mr Rendle will read out the names of 10 RVNs who will be collecting their Diplomas in Advanced Veterinary Nursing. Special recognition will also be paid to Liverpool RVN Judith Montgomery for her long-standing contribution to the profession.

Matthew Rendle said: "This will be my first formal event as Chair of VN Council and it's a great honour for me to be welcoming these newly trained veterinary nurses into our great profession and sharing with them my hopes and wishes for veterinary nurses and how they can play their part in its development and its future."

The event will include two speeches from previous recipients of the Veterinary Nursing Golden Jubilee Award – the highest honour that can be bestowed on an RVN by the College. Jane Devaney, who won the award in 2019, will speak about the development of her career in veterinary nursing, while 2014 award-winner Hayley Walters will discuss her international career, which involved nursing bears rescued from China's bear bile trade.

Matthew added: "Our guest speakers Jane and Hayley also demonstrate just how diverse a career veterinary nursing can be and that it can encompass teaching, mentoring, international outreach and clinical practice and I hope those attending will be inspired to think about all the different paths their veterinary nursing qualification can take them down."

The evening will conclude with an update on the VN Futures Initiative by RCVS Director of Veterinary Nursing Julie Dugmore. Julie will outline the project, which aims to identify and address the challenges veterinary nursing is likely to face over the coming years, and explain how the newly-qualified nurses can get involved.
To watch the event live visit the RCVS website. A recording of the ceremony will be made available for those who are unable to attend.