UK One Health Coordination Group names new chair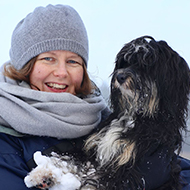 Helen Ballantyne RVN selected for her experience in animal and human health sectors.
Multi-disciplined human and animal health nurse Helen Ballantyne has been named as the new chair of the UK One Health Coordination Group (UKOHCG) for 2020/2021.

The One Health Coordination Group comprises specialists from across the UK veterinary, environmental and human healthcare sectors. Its 2019 report One Health in Action included initiatives from the Wildlife Trusts, the Royal College of Nursing, the NHS Sustainable Development Unit, the BVA, RCVS Mind Matters and the National Trust.

Helen Ballantyne was selected as chair of the UKOHCG for her experience in both the animal and human healthcare professions. The group will work together to promote UK 'One Health' initiatives which seek to attain optimal health for animals, people, and the environment.

"I feel deeply honoured to be given the opportunity to chair this passionate and forward-thinking group of people as we share One Health knowledge and disseminate examples of effective collaborative initiatives," said Helen.

"The UKOHCG meetings are always so exciting. As the agenda evolves very often new ideas, new links and new contacts are made; it's One Health happening in real-time. The group is made up of passionate and motivated individuals who are representing large networks; for example, the National Trust, the British Medical Association and the British Dental Association are all members.''

After graduating with a Pharmacology degree in 2002 and qualifying as an RVN in 2005, Helen went on to work as a locum nurse, working nationally and internationally gathering experience in referral medicine and surgery, charity practice, emergency nursing and exotics. She also spent five years on BVNA council, which culminated in her receiving honorary membership.

Helen currently works as a clinical nurse specialist for Living Kidney Donation where she supports living kidney donors through the process of donation and organises kidney transplant surgeries. As part of this role, she also manages the logistics of matching, retrieving and transplanting abdominal organs from deceased donors.

"Helen is an ideal candidate to take the chair of the UKOHCG, she is a fabulous advocate and inspiration for veterinary nurses and is an active member of the BVNA," commented BVNA President, Jo Oakden. "One health is even more significant in the present climate; veterinary nurses are ideally placed to be actively involved in One Health, and with Helen at the helm more will be inspired to think about what can be achieved with One Health."

Helen takes over the responsibility as chair from BVA's former president and vet, Simon Doherty.