Majority of farm fridges record temperatures outside recommended range for vaccines - study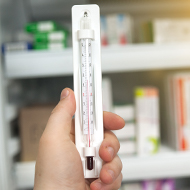 Farmers encouraged to use thermomenters or loggers to track fridge temperature.
Farmers are being urged to take action to improve medicine storage after a study found that the majority of farm fridges may not maintain temperatures within the recommended range for vaccines.

With new figures suggesting that around 89 per cent of farm fridges record temperatures outside of the 2-8
°C range, XLVets is encouraging farmers to track the temperature of their fridges and take steps to maximise efficiency.

Rosie Lyle of Bishopton Veterinary Group, a member of XLVets and lead author of the study, said: "It's important for both farmers and vets to be aware of potential concerns about vaccine efficacy, given the possible impact on herd health and the potential for vaccine failure to reduce trust in vaccines and herd health recommendations."

In the study, 18 farmers placed temperature loggers in the fridge where they normally store vaccines. Between February and April, 89 per cent of loggers recorded a temperature outside the recommended 2–8
°C range at least once, and 43 per cent recorded temperatures outside this range more than 50 per cent of the time.

It was noted that 55 per cent of the loggers recorded a temperature over 8
°C, and 39 per cent recorded a temperature below 2
°C. Across all the fridges monitored, the maximum temperature recorded was 12
°C, and the minimum was -11.5
°C.

"These findings are concerning for farmers as we know that both too high and too low temperatures can impair vaccine efficacy," said Rosie, adding that live vaccines tend to be particularly sensitive to elevated temperatures while inactivated vaccines are more affected by freezing.

In light of the findings, farmers are being encouraged to use max/min thermometers or temperature loggers to track fridge temperature and take steps to maximise the efficiency of each fridge. Simple interventions might include ensuring fridges are not subject to wide variations in external temperature and enabling adequate airflow, said XLVets.