Six social science-led projects receive funding to help combat infectious disease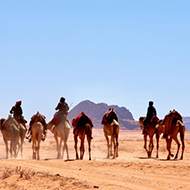 Research programme seeks new perspectives on human and animal health challenges

A total of £170,000 has been awarded to six projects which aim to combat infectious disease and antimicrobial resistance (AMR) across the world through a cross-disciplinary approach.
The funding has been awarded by The Bloomsbury SET – a £5 million translational research programme lead by The Royal Veterinary College (RVC) and funded by Research England.
The intention of the programme is to encourage innovative scientific and technical solutions to help protect global human and animal health. The most recent funding call hopes to bring new perspectives on this matter by using a cross-disciplinary approach, focusing on the arts, humanities and social sciences.
The six collaborative projects that will receive funding are:
'Knowledge exchange through a Bedouin lens: a photovoice exploration of camel owner perceptions of zoonotic disease risk' – led by Dr Jackie Cardwell

'Enhancing political economy research skills to tackle infectious disease and AMR challenges' – led by Dr Mehroosh Tak

'Assessing social acceptability and economic impact of centralized antibiotic usage data collection for GB cattle farms' – led by Dr Mehroosh Tak

'Tackling antimicrobial resistance in rivers: a design-based policy approach' – led by Dr Naomi Bull

'Contextualizing antimicrobial resistance perspectives in Sri Lanka and European Union' – led by Dr Risa Morimoto

'Visual arts and localised evidence and decision-making' – led by Dr Polly Savage
Dr Ray Kent, director of research administration at the RVC, said: "The six funded projects represent an exciting opportunity to investigate social and cultural aspects of infectious disease and AMR, which can so easily be overlooked in our rush to identify and implement technology-based solutions.
"We trust that in combination, these studies will lead to genuine insights into how co-designing solutions with local people can reduce costs and encourage shared ownership of challenges in low-resource settings, leading to better outcomes for disease prevention and control."
For more information on the programme or the funded projects, please click here.
Image (c) Peter Holloway (RVC).