Updated recommendations on equine metabolic syndrome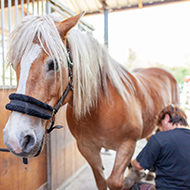 Equine Endocrinology Group provides new guidance on diagnosis and treatment.
The Equine Endocrinology Group (EEG) has released updated recommendations for veterinary surgeons on the diagnosis and treatment of equine metabolic syndrome (EMS).

EMS is associated with a reduction in the normal insulin response, placing horses at high risk of developing laminitis. Under the new guidance, the implications for horse health are that accurate diagnosis should be made more quickly, and that every animal should receive optimum treatment based on the latest scientific knowledge.

EEG group member Dr Nicola Menzies-Gow, a reader in equine medicine at the RVC, said: "These updated guidelines are designed to help equine veterinarians correctly identify animals with equine metabolic syndrome and then recommend the optimum management for an individual animal, based on cutting-edge research."

The EEG is an international group of clinicians and researchers that work together to advance understanding of endocrine disorders in horses. The group contains key opinion leaders in the field who meet every two years to review diagnosis and treatment recommendations based on new research findings.

Dr Menzies-Gow, who has been a member of the EEG since 2016, added: "It was a pleasure to work with clinicians and researchers from across the globe to synergise our research on this common condition, which causes great distress to horses and their owners alike. The RVC has a long history of researching laminitis, and I am proud to be continuing this work."