WSAVA/FECAVA Congress 2020 to be a 'hybrid' event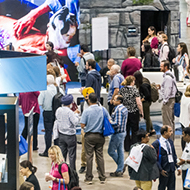 Delegates will be able to access content both face-to-face and online.
The postponed WSAVA/FECAVA Congress 2020 will be a hybrid event, offering both a face-to-face experience and a virtual one for those who are unable to travel, organisers have announced.

The Congress, held in collaboration with the Polish Small Animal Veterinary Association (PSAVA),will now take place in Warsaw, Poland (21-24 March 2021).

With an exciting scientific and social programme, organisers said the move to a 'hybrid' event is to ensure that as many of its members as possible can benefit from the unique learning opportunity.

"The quality and breadth of our scientific programs sets our Congresses apart and, as usual, for 2020, we are privileged to have many of the world's leading veterinary experts joining us to speak in more than 50 streams," said outgoing WSAVA President Dr Shane Ryan.

"In addition to watching lectures, our online delegates will be able to review the successful poster submissions, enjoy networking opportunities, browse the virtual exhibition and attend key WSAVA sessions, including our 2020 Shaping the Future lecture."

Dr Ryan continued: "The WSAVA is all about community and we believe that offering a hybrid model is the best way to ensure that our community can still get together and that as many delegates as possible can benefit from our speakers' experience and expertise. We're looking forward to welcoming both our face-to-face and online delegates to WSAVA/FECAVA Congress 2020."

WSAVA World Congress 2021 is scheduled to go ahead in Hyderabad, India, from 3-16 November 2021 as planned.