Cats fed once a day are more satisfied, study suggests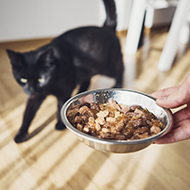 Study highlights benefits of reducing cats' food intake.

A new study has found that feeding indoor cats one large meal a day could help to control hunger better than by feeding them multiple times a day.

The research published in the journal Plos One, suggests that cats that eat one meal a day are more satisfied, which could lead to less food begging.
Importantly, the study reveals that cutting back on feeding may help to reduce the risk of obesity by controlling cats' appetite and potentially making them eat less.

Study co-author Prof. Adronie Verbrugghe, from the University of Guelph's Department of Clinical Studies, said: "These findings may surprise the veterinary community and many cat owners who have been told their animals need several small meals a day. But these results suggest there are benefits to this approach."

In the study, researchers analysed the effects of meal frequency on appetite-suppressing hormones, physical activity, energy expenditure and use of energy sources. Eight healthy-weighted cats under the age of five were exposed to both feeding regimes for a total of three weeks, with the same diet being offered in either one large meal in the morning, or four smaller meals.

The scientists noted an increase in physical activity in the cats fed four times a day, but the overall expenditure between the two groups was similar. The cats' weight in both groups did not change throughout the study, no matter what feeding schedule they were on.

The team also found that the cats that only ate once a day had higher post-meal levels appetite-regulating hormones, suggesting they were more satisfied. These cats also displayed lower fasting respiratory quotient, indicating they were burning their fat stores.

Finally, the cats that ate just one meal had a greater increase in blood amino acids, meaning more protein was available to them to build muscle and other vital proteins.

Professor Kate Shoveller, from the University of Guelph's Department of Animal Biosciences, said: "Physiologically, it makes sense that feeding only once a day would have benefits. When you look at human research, there's pretty consistent evidence that there are positive health outcomes with intermittent fasting and improved satiety."

Researchers caution that while this approach may work in some cats, it might not necessarily work in others.

Prof. Verbrugghe added: "This approach is really yet another tool in a veterinarian or a cat owner's toolbox for managing a cat's weight and keeping their animals healthy and happy. But we always have to look at each individual animal and account for the cat's and owner's lifestyle. So although this approach might be helpful to promote satiety in some cats, it might not help another."