BVA appoints new president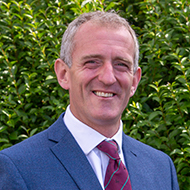 James Russell plans to prioritise 'keeping vets healthy' in his presidential year.

Staffordshire-based farm vet James Russell has been announced as president of the British Veterinary Association (BVA) for 2020/21.

Mr Russell takes on the role following 17 years working in mixed practice, during which he was the director of a large veterinary practice in Ashbourne and later became an independent veterinary consultant.

In his term as junior vice president, Mr Russell helped to develop and launch a comprehensive new policy position on bovine tuberculosis. The updated document considers new and emerging evidence, setting out a holistic roadmap to control and bring an end to this challenging animal health issue.

During the COVID-19 lockdown, Mr Russell led much of the farm, large animal and rural veterinary guidance for members. He is also involved with Vetlife and, in January 2020, joined the Vetlife board.

In his role as president of the BVA, Mr Russell plans to take forward the BVA's Good Workplace position through supporting calls for a more positive and inclusive working experience.

He said: "I feel humbled and thrilled to be entering into my presidential year at this crucial time for our profession. My year as Junior Vice President has definitely not reflected the advert – be prepared to be away from home quite a bit, but don't worry the events make up for it – but it has been a privilege and a steep learning curve.
"When the COVID pandemic hit, as an association we were able to draw on the breadth and depth of experience within our small team to respond with agility and accuracy to often very challenging situations."
He continued: "Reducing the leaks in the bucket of our profession and helping others to find fulfilment in their work are massively important to me, especially as we recognise the new and amplified mental health challenges facing the profession as we adapt to new ways of working. It is this which has reinforced my desire to make 'keeping vets healthy' the theme that I hope to apply to all my thinking and work this year."
Welcoming Mr Russell to the role, outgoing president Daniella Dos Santos reflected on 'a year like no other', adding that BVA would continue to be there for everyone in the veterinary community during the challenging and uncertain times ahead.

Daniella, who will continue on the BVA Officer team as senior vice president, said: "There isn't a book on how to lead during a pandemic, let alone doing it during an election year, a transition period, or when the regulation of your profession is being re-evaluated.

"This year has been unpredictable and unlike any other, but at every step of the way I have been absolutely honoured to serve you as BVA's President and could not be prouder to be part of our incredible profession."

During the virtual handover session on Thursday (17 September), Winchester-based zoo and wildlife veterinary surgeon, Dr Justine Shotton was elected junior vice president. He will join James and Daniella on BVA's Officer team for 2020/21.
Image (C) BVA.