BVNA and RCVS to offer joint sessions at online event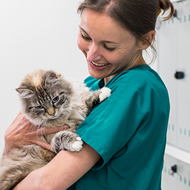 Organisations work together to help bolster profession

The British Veterinary Nursing Association (BVNA) and the Royal College of Veterinary Surgeons (RCVS) are collaborating to provide a variety of interactive sessions for the veterinary nursing profession at BVNA's This is Us 2020 event.
The virtual event will run from 9 to 11 October, with the joint sessions taking place as part of the VN Futures project, which was established in 2016 by BVNA and RCVS to support the veterinary nursing profession and its future.
Details of the sessions are as follows:
Friday 9 October, 6.20pm:

Nicola Ackerman will chair a discussion on the impact of COVID-19 on the veterinary nursing profession


Saturday 10 October, 2.05pm:

Zoe Halfacree will discuss environmental sustainability in the profession. Asking delegates to discuss ideas and approaches for a greener practice

Saturday 10 October, 6:05pm:

This session will focus on the value of the student/coach relationship and will be chaired by Samantha Morgan

Sunday 11 October, 1.10pm:

Elizabeth Cox will chair a session about the impact of potential legislative change on the veterinary nursing profession

Sunday 11 October, 4.10pm:

VN Futures project manager Jill Macdonald will host a session on role recognition and the value of veterinary nurses.
The event will also include three short presentations which highlight the achievements of VN Futures and potential ideas for the next phase of the project.
Josephine Oakden, BVNA junior vice-president and current chair of the VN Futures board says: "The VN Futures project has achieved many positive changes within the profession over the past four years.
"VN Futures is a two-way process, and we need engagement from the profession to achieve the most from the project. We are listening and wish to gather opinion and input on what veterinary nurses feel are the key challenges and opportunities in the profession and generate areas of focus for the next phase of VN Futures."
BVNA member can sign up to This is Us 2020 for free through the Webinar Vet.