China bans German pork imports following ASF confirmation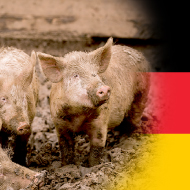 Trade implications may not be as serious as initially feared.

China and South Korea have banned pork imports from Germany after a case of African swine fever (ASF) was confirmed in a wild boar, just six kilometres away from the Polish border.

According to the National Pig Association, Singapore, Brazil, Japan and Argentina have also banned German pork exports in the wake of the positive test, made in the eastern state of Brandenburg on Thursday (10 September).

As one of the world's largest exporters of pork, German authorities had feared that a confirmed case could damage trade, with a wider effect on the EU. But AHDB analyst Bethan Wilkins reports that the implications might not be a serious as first thought, owing to the amount of pork the EU has exported to China over the past 18 months.
The case in Germany was confirmed by the Friedrich-Loeffler-Institute in a decayed carcase, suggesting the infection took place several weeks ago. The Institute said that entry by a migrating wild boar was unlikely, but the introduction by humans via contaminated food 'cannot be ruled out'.

Since the discovery, Germany authorities have introduced several measures to prevent further spread of the disease, including a fenced exclusion zone of three kilometres around the infection site. NPA executive Zoe Davis said the situation was 'very worrying' but stressed that Germany was well prepared to cope with the eventuality:

"We hope that the German authorities are able to quickly contain the spread of the virus and keep it out of domestic pigs so that any trading restrictions are kept to a minimum," she said. "However, it will take at least two years to regain official ASF-free status due to the testing requirements to prove ASF has been eradicated from wild boar."

This latest discovery highlights the continuing spread of ASF across Europe and the rest of the world. Historically, outbreaks have been reported across Africa and parts of Europe, South America and the Caribbean. In recent years, however, the disease has devastated pig populations across much of Asia, Africa and parts of Europe. The new case in Brandenburg was found a mere 30km away from the last confirmed case of ASF in Poland.
There has never been an outbreak of ASF in the UK, but Defra and the APHA are closely monitoring the situation to assess the risk to the UK pig population. The disease can be spread if healthy pigs consume infectious meat, have contact with other infected pigs, or have contact with anything contaminated with the virus.

Hopes for a vaccine against ASF were raised earlier this year when a trial by the Pirbright Institute revealed that a vaccine could protect against a lethal dose of the virus in 100 per cent of pigs.