PDSA receives prestigious RCVS Knowledge award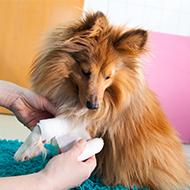 Quality Improvement award honours the introduction of a national pain relief protocol.
The RCVS has presented the PDSA with a prestigious award recognising the charity's work to improve the provision of pain management.

The 2020 RCVS Knowledge Award for Quality Improvement as a Champion Practice was presented on Thursday (10 September) at the College's inaugural virtual awards evening.

PDSA received the award for the introduction of a national pain relief protocol, auditing of cruciate surgery outcomes and development of clinical incident reporting. Upon receiving the award, Steve Howard, PDSA's head of clinical services, said:

"We're delighted to receive this award and to celebrate the work of our veterinary teams who continually work so hard to achieve excellence. These have been challenging times but our dedicated Pet Hospital teams have been working tirelessly to treat sick and injured pets in need across the UK throughout the pandemic; delivering the best quality care they can in very difficult circumstances."

He added: "I am immensely proud of them all and pleased to be able to share the uplifting news that PDSA has received this award as a result of their hard work and dedication to delivering a quality service in the past – which they are still doing to this day."

The PDSA's work showcased improvements in pain relief provision following the introduction of protocols, advancements in case selection and management of post-cruciate surgery patients. It also highlighted the role of auditing clinical incident reports to allow interventions to be targeted where they will be most beneficial.