New technology to reduce number of chickens used in research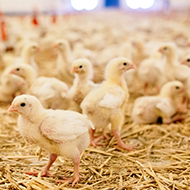 Surrogacy method to support the creation of a new chicken biobank.
Scientists at the University of Edinburgh are seeking to develop new technology that will limit the number of chickens used in research.

The approach involves freezing chicken reproductive cells and using sterile surrogates to hatch the required breeds. Researchers say this will ultimately support the formation of a new biobank, maintain genetic diversity and prevent problems with inbreeding.

The project is being conducted by researchers at The Roslin Institute and is being funded by the National Centre for the Replacement Refinement and Reduction of Animals in Research (NC3Rs).

Dr Mike McGrew from the Roslin Institute said: "Discovering a way to easily freeze avian reproductive cells and subsequently bring back a genetically diverse flock will help the preservation of endangered breeds of poultry, increase food security from disease outbreaks and reduce the numbers of animals used in research."

In the project, researchers aim to optimise how to freeze reproductive cells by studying three breeds of chicken currently used in research. They then hope to demonstrate that a single, surrogate chicken can lay eggs that come from many individual donor birds.

Scientists say this will validate the creation of biobanks for flocks of poultry for research purposes, which will limit the number of animals bred for use in this way. The novel method could also help to preserve rare chicken breeds.